Hunslet Poster WW1
279
Contributor:
Pat Benatmane
Decade:
1910s
How many of us remember what we were doing four years ago? Can you imagine that in all that time loved ones were fighting? Your 18yr old son would have been called up and sent abroad: your husband would have been posted away for 4 or 5 years: your 16yr old may have lied about his age and gone off to the battlefields.
With the 100th anniversary of WW1, Hunslet RLFC wanted to pay tribute to the many people attached to the Hunslet Cricket, Football and Athletic Club who had been caught up in the events. Thus, I have tried to find out what happened to the men who had played rugby, cricket, bowls or had been on the committees, during the war. It is no easy task without having the men's addresses. I have gone down many a blind alley and spent many hours in Leeds Central Library and online trying to pinpoint particular men. Here are just a few of the records I have searched. I hope you find them thought-provoking.
I must thank all those people who have helped, especially Steve Calline for his meticulous statistical records and generous sharing of them. I also have to thank, or is it curse, Martin Flynn, who casually said in spring "Pat, would you like to find out about a few players?" That simple request has set me on an obsessive quest, a few of the results of which are here.
Difficult as this task has been, it would have been impossible to find out about what the women did as their names were rarely recorded. However, their part in the Home Front or as Voluntary Aid Detachment nurses was immense. To all of that lost generation, thank you.
If you have corrections or information on further Hunslet men, please do pass them on to me, via the Hunslet office. Any mistakes are my own, for which I apologise in advance.
Hold and drag to see more detail in the image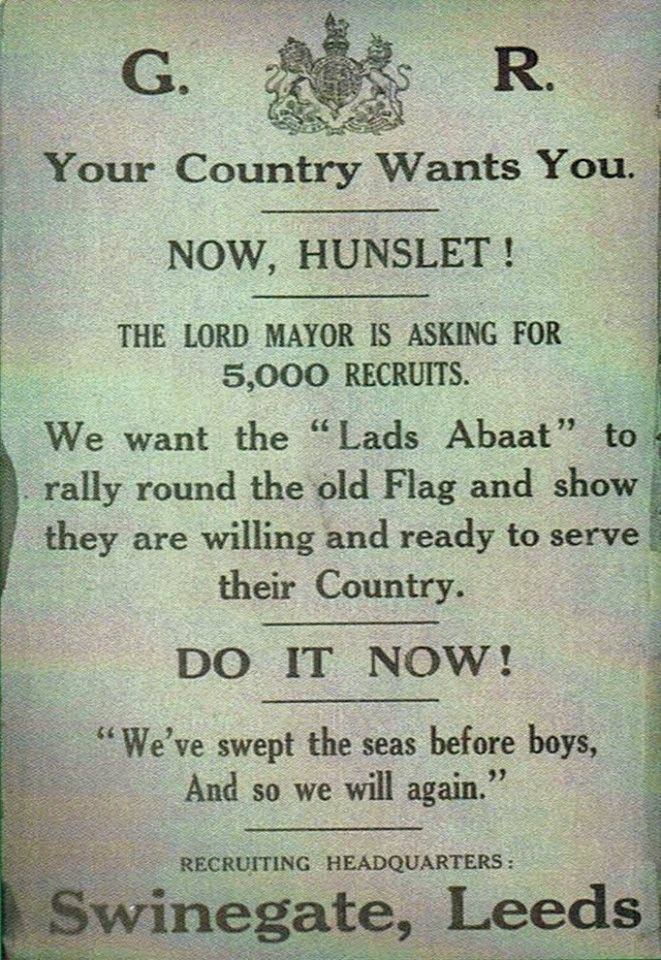 RELEVANT RECORDS