75 Years of Hunslet Schools' Rugby
4907
Contributor:
Stephen Boothroyd
75 YEARS OF HUNSLET SCHOOLS' RUGBY LEAGUE, 1921-1996
Rugby was first organised in Leeds schools in 1902, and the association included from the outset a number of Hunslet schools: Beeston Hill, Bewerley Street, Cockburn, Hunslet Carr, Jack Lane, Low Road and South Accommodation Road. As the number of schools playing the game increased, "North", "South" and "East" leagues were organised and in 1921 Hunslet schools decided to establish their own association. As the term "Rugby League" was yet to be used, the association was called the Hunslet Schools' Rugby Union.
At the time of the "breakaway" from Leeds, Hunslet Carr were at the start of a five-year unbeaten run, which saw them complete a clean-sweep of domestic trophies as well as the Yorkshire Cup throughout this period. Hunslet Carr continued to dominate the senior competition until 1935, with occasional successes for Hunslet National and Jack Lane. During the seasons immediately before and after the Second World War, Middleton emerged as the strongest school side in the south of the city and also won the Yorkshire Cup in 1938. There were still occasional wins for Hunslet Carr and Hunslet National, as well as a spectacular hat-trick of league and cup doubles, and two Yorkshire Cup wins, for St Joseph's in the mid-1950s, but Middleton's trophy-winning continued until the start of the 1960s. It was then that Belle Isle took over as the dominant senior side, winning the Hunslet Championship for an unprecedented nine successive seasons, by which time Hunslet and Leeds teams had joined up again for league competitions (in 1967). Hunslet SRL continued to run its own primary school league until 1972. Winners, down the years, included Cross Flatts, Bewerley Street, Beeston and Clapgate, as well as the junior sections of the "big three" Hunslet Carr, Middleton and Belle Isle.
As well as organising league and cup competitions, Hunslet also ran its own "City Boys" teams. The 1930s, 1950s and early-1960s proved successful times for the senior Hunslet Boys: they were Yorkshire Champions in 1931, 1936, 1938, 1952, 1955, 1956, 1957, 1958, 1962, 1963 and 1964.
The reorganisation of Leeds schools in 1972, including the introduction of middle schools, saw the re-structuring of schools' rugby league in the city. All league and cup competitions were now open to all schools in the Leeds and Hunslet associations. Parkside, later to change its name to Middleton Park, continued as the strongest high school side in the city for the next 20 years; their "golden era" was the late 1970s, when they completed a hat-trick of Yorkshire Cup wins at under 16, as well as two at under 15. Clapgate were the strongest middle school side; one of their teams went through all four middle school age-groups unbeaten, conceding only one try in the process. Arthur Greenwood and John Blenkinsop also produced some outstanding sides, with Greenwood winning the Under 13 National "Sevens" in 1975.
Although the number of pupils in the area was contracting during this time, Hunslet continued to run its own City Boys teams at under 16, under 13 and under 11. Trophies were few and far between compared to earlier eras, although the Under 16s were Yorkshire Champions in 1977 and 1981 and also national champions in 1977.
Morley schools had established their own association in 1975 and in 1985 they joined with Hunslet to form the Hunslet and Morley Schools' Rugby League. Hunslet and Morley were Under 11 Yorkshire Champions in 1993, Under 13 Yorkshire Champions in 1994 and Under 16 Yorkshire Champions in 1994 and 1996, as well as national champions in 1994. Whilst the Under 11 and 13 teams contained boys exclusively from Hunslet and Morley schools, the Under 16 sides included boys from Leeds schools (as Leeds weren't fielding a team at this point). When, in 1995, Hunslet and Morley no longer had the man-power to run representative sides at under 11 and 13, the writing was on the wall: in 1996, Hunslet and Morley combined with Leeds to form the Leeds and Hunslet Schools' Rugby League.
So ended 75 years of Hunslet's own schools' rugby league association. An era in which, despite its small number of schools, the area could hold its own against any towns and cities in the north of England.
Hold and drag to see more detail in the image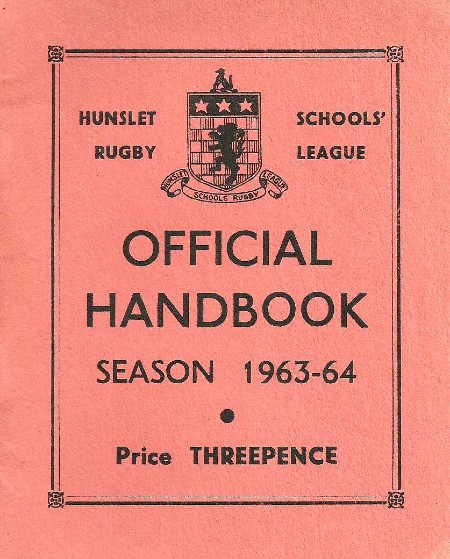 RELEVANT RECORDS